Basic Information
Position:
Assistant Professor, The Information School
Adjunct Assistant Professor, Computer Science & Engineering
Director, Data Science and Analytics Lab
University of Washington
Contact:
joshblum[@]uw[.]edu / +1 (206) 685-8746
for encrypted correspondence: my public key
My work focuses on developing new methods for analyzing massive, spatiotemporal network data, and on using these data to better understand the economic lives of the poor. Most of this work is based in developing and conflict-affected countries. I have research positions for qualified PhD students, and an open staff position.
News and updates
Recent Projects
In Progress
Violence and Financial Decisions: Experimental Evidence from Mobile Money in Afghanistan
- joint with Michael Callen (UCLA) and Tarek Ghani (UC Berkeley)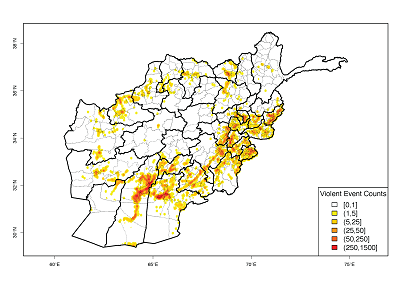 Private firms in conflict-affected countries face insecurity, corruption, poor infrastructure, and weak property rights. Disbursing employee wages is a challenge as cash-based payment systems are vulnerable to indirect costs in the form of leakage and theft. We implement a randomized field experiment in Afghanistan to test the effects of a mobile phone-based salary payment system on performance outcomes in a private firm with approximately 400 employees.
Mobile-izing Savings: Experimental Evidence on the Impact of Automatic Contributions in Afghanistan
- joint with Michael Callen (Harvard) and Tarek Ghani (UC Berkeley)
Automatic payroll deductions represent one of the most effective means of increasing savings in developed countries. We design and experimentally evaluate a mobile phone-based account that allows savings to be automatically deducted from salaries in Afghanistan, a country with extremely low levels of formal financial inclusion. We find that employees who are automatically enrolled in a defined-contribution account are 40 percentage points more likely to contribute to the account than individuals with a default contribution of zero. We also randomize employer matching contributions and find that the effect of automatic enrollment on participation is approximately equivalent to providing financial incentives equal to a 50 percent match.
Freedom to Speak: How a Free Calling Network Affects Community Health Worker Knowledge and Productivity
We study the extent to which increased peer communication can improve the effectiveness of community health workers in Tanzania. Through a large field experiment in which roughly 8,000 health workers receive staggered access to a free mobile phone network, we measure the impact of this intervention on actual patterns of interaction and on health and welfare outcomes of workers and patients.
A Society of Silent Separation: The Impact of Migration on Ethnic Segregation in Estonia
- joint with Ott Toomet (Tartu University)
We exploit a novel source of data to model the impact of migration and urbanization on segregation in Estonia. Analyzing the complete mobile phone records of hundreds of thousands of Estonians, we find that the ethnic composition of an individual's geographic neighborhood heavily influences the structure of the individual's phone-based network. We further find that patterns of segregation are significantly different for migrants than for the at-large population: migrants are more likely to interact with coethnics than non-migrants, but are less sensitive to the ethnic composition of their immediate neighborhood than non-migrants.